Get The Medications Right (GTMR)
On May 24, 2016, Health2 Resources and Blue Thorn Inc., released a CPF-funded report titled, 'Get the Medications Right' (GTMR) describing a nationwide snapshot of expert pharmacy practices conducting Comprehensive Medication Management (CMM) in ambulatory / community practice settings.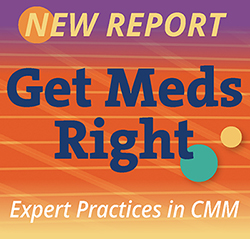 On June 29, 2016, a webinar featuring Steve Simenson BPharm, FAPhA, DPNA, CEO and managing partner of Goodrich Pharmacy, Inc. shared his insights on Goodrich's successful program. He discussed how Goodrich integrated CMM into the community pharmacy setting and how it has expanded these services beyond the pharmacy doors.
He was also joined by Terry McInnis MD, MPH, CPE, FACOEM, president of Blue Thorn Inc. and principal investigator of the GTMR report. McInnis offered an overview of CMM, explained the components, and discussed key findings of the report and their relevance to community pharmacy.

National Community Pharmacists Association (NCPA)
Several CPF Board Members will attend the upcoming NCPA Annual Convention, October 15 - 19, 2016. Many of the sessions in the 'Expanding Opportunities Dimension' touch on CPF grant areas of interest. Namely, CPF is interested in grants that highlight new and emerging patient care innovations that are sustainable, transferable, and replicable in community pharmacy practice. Follow NCPA and use the hashtag #NCPA2016 to join the convention conversation online. CPF will retweet (RT) along the way, so you can catch highlights on our social media outlets as well.


APhA 2017 Meeting Abstracts Deadline
Many CPF grantees share their work as posters and presentations at the American Pharmacists Association (APhA) Annual Meeting. The abstract submission deadline for the 2017 meeting in San Francisco, CA is October 5, 2016 at 5pm Eastern.