| | |
| --- | --- |
| Contents | |
| Announcements | Flip the Pharmacy Program | APhA 2020 Virtual | ACT Collaborative |
| Grant Updates | Recently Awarded and Completed Grants | Grantee Updates |
| Social Snippets | DHS Announces Free PReP Program | Rural HPV Vaccination Rates |
| Deadlines & Events | Next-Gen Awards | PQA Annual Meeting | CPF Applications & Meeting |

Announcements

The Community Pharmacy Foundation appreciates and fully recognizes the #PharmacyHeros and front-line healthcare providers responding to the COVID-19 pandemic. CPF has compiled resources from several pharmacy and national health organizations in the Timely Topics toolkit section of the website in addition to new Flip the Pharmacy (FtP) Change Packages focused on community pharmacy best practices for COVID-19. The CPF board will hold a condensed virtual meeting in May, and in doing so has adjusted the application submission cycle. The next application review will occur at the August board meeting and the submission deadline is Midnight Tuesday, August 11, 2020 (Pacific Time).


Flip the Pharmacy (FtP)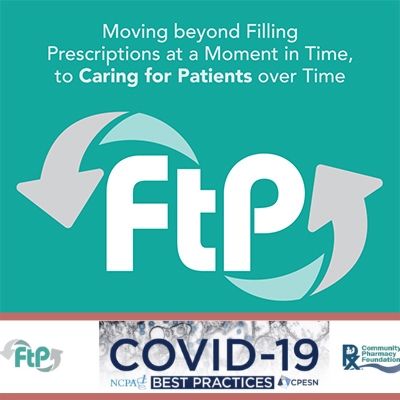 Flip the Pharmacy
is a multi-year community pharmacy practice transformation program where CPF partnered with CPESN® USA to serve as the Coordinating Center for implementation. The first cohort is comprised of 28 teams across the country with over 200 coaches who provide direct guidance on implementing Change Package curricula to over 500 pharmacies.
The FtP Program rapidly adjusted to address the immediate community pharmacy practice needs created by the COVID-19 pandemic. The focus of the Change Package content was reprioritized to address immediate issues of COVID-19 on community pharmacy practice. Pharmacy teams are utilizing care planning and clinical documentation skills developed during the first progression (Oct 2019 - March 2020) to support their patients in this unprecedented period.
View #1
- Protecting Pharmacy Workforce and Patient Communications (3/24/2020)
View #2
- Triage COVID-19 Patients and Care Plan Development (4/8/2020)
View #3
- Applying for a CLIA Certificate of Waiver (4/17/2020)
FtP in the News
Cover Story -- America's PHARMACIST "A Practice Transformation" featured in the April 2020 publication by the National Community Pharmacists Association (NCPA).

CPF Executive Director, Anne Marie Kondic, and Flip the Pharmacy Director of Program Transformation, Randy McDonough, set the stage for the origins and intent of transforming community pharmacy practice to care for patients in an appointment-based clinical model.

Read the stories from FtP pharmacists and team coaches for practical tips and benefits they've experienced over the first 6 months of the program implementation.


Amanda Harmon

, pharmacist at Gates Pharmacy in Mount Airy, North Carolina

Eklavya Lalwani

, pharmacist and owner of Olden Pharmacy in Hamilton, New Jersey

Bruno Tching

, pharmacist and CEO of Inland Pharmacy in Hemet, California

Beth Bryan

, pharmacist and owner of Surgoinsville Pharmacy in Surgoinsville, Tennesse




FtP Pharmacy Stories

Nebraska - 'Flip the Pharmacy' campaign helps to enhance patient care beyond prescriptions on ABC News affiliate Nebraska TV (NTV)! (2/25/2020)
Wisconsin - School of Pharmacy Alumna Leads Wisconsin's Community Pharmacy Enhanced Services Network (3/5/2020)
Wyoming - UW Health Sciences Alumni Take Multidisciplinary Approach to Pharmacy Patient Care (3/18/2020)


FtP Newsletters -- April 2020 | All Newsletters

APhA Meeting 2020 Virtual
Although in-person activities in March were not possible with the necessity to cancel the live event, APhA 2020 is now virtual with access to CPE activities, awards ceremonies, speeches and more! Congratulations to CPF board member, Linda Garrelts MacLean, and various CPF grantees on the Fellows Awards!
Additional APhA 2020 Virtual Events & Information
ACT Pharmacy Collaborative
The Academia-CPESN Transformation (ACT) Pharmacy Collaborative is an operational learning and ACTing collaborative between colleges/schools of pharmacy and clinically integrated networks of community-based pharmacies. The program launched at the AACP Annual Meeting in July 2019 there are currently 85 colleges/schools involved. Read an update in America's PHARMACIST April 2020 CPESN Brief.

Since the launch in July 2019, a mighty infrastructure has developed that allows quick responses from participating colleges, schools, and CPESN pharmacies when called to action. The current focus is on pairing resources to respond to COVID-19 practice impacts.
The ACT Pharmacy Collaborative is teaming up with CPESN USA to connect pharmacies in need of support during the COVID-19 pandemic with student pharmacists seeking to help. Find out more here.
Request Form | Stay Informed | Join ACT!

Blueprint Released
The ACT Pharmacy Blueprint for Building a National Partnership Collaborative was released during an ACT webinar on Wednesday, March 18, 2020. This Collaborative is designed by pharmacy faculty and community pharmacy owners and leaders to propel community pharmacy practice transformation together – nationwide. The ACT Pharmacy Collaborative provides a mechanism for academia to inspire the next generation of pharmacists while allowing graduates and current students to be a part of the change. This Blueprint contains ideas and resources for colleges/schools of pharmacy to expand their own community pharmacy partnerships nationwide and outlines a roadmap for the ACT Pharmacy Collaborative.
Student Scholars
Congratulations to the 5 students selected as ACT Pharmacy Collaborative Scholars! Students were selected for their vision and passion to transform community pharmacy practices into patient-centric healthcare destinations. The selected scholars will receive stipends to actively engage and participate in the CPESN Midyear Meeting that is currently rescheduled for early August 2020.
Amy Love Baggett, Class of 2020 - The University of Mississippi School of Pharmacy

Anna Brown, Class of 2021 - UNC Eshelman School of Pharmacy

Nevin Radechel, Class of 2021- Drake University College of Pharmacy & Health Sciences

Karami Reed, Class of 2020 - Idaho State University College of Pharmacy

Keaton Thomas, Class of 2022- University of Missouri-Kansas City School of Pharmacy
Recently Completed Grants
| Completed | Applicant | Category | Title | Status |
| --- | --- | --- | --- | --- |
2020
View Details
Hannah Renner , PharmD
University of Pittsburgh School of Pharmacy
Pharmacy Management & Ownership
Location: Pennsylvania

Grant Complete
---
2020
View Details
Matthew Witry , PharmD, PhD
University of Iowa College of Pharmacy

Medication Management, Safety & Quality

Grant Complete
---
2020
View Details
Jeremy Peek , PharmD
Pharmacy Providers of Oklahoma
Therapeutics, Diseases & Populations
Location: Oklahoma

Pilot Implementation of an HPV Vaccine Administration Initiative Targeting Young Adults in the RxSelect Community Pharmacy Enhanced Services -CPESN- Network
Resources: CPF Synopsis | Poster | Form

Grant Complete
---
View more recently completed grants
Grantee Updates
The following grantee manuscripts were recently published in peer-review journals. Congratulations!
Social Snippets


Upcoming Deadlines and Events
PQA Annual Meeting – ONLINE, May 13-15, 2020 – Information
Next-Generation Pharmacist Awards Nominations – May 15, 2020 – Submission
CPF Board Meeting – May 21, 2020
AACP Annual Meeting – July 18-22, 2020 – Information
CPF Grant Applications Deadline – August 11, 2020 at Midnight Pacific – Submission
CPF Board Meeting – August 25-27, 2020