| | |
| --- | --- |
| Contents | |
| Announcements | Flip the Pharmacy Program | ACT Collaborative | CPIQ Awards | Incentive Grants |
| Grant Updates | Recently Awarded and Completed Grants | Grantee Updates |
| Social Snippets | DHS Announces Free PReP Program | Rural HPV Vaccination Rates |
| Deadlines & Events | PQA/CPF CPIQ Awards | CPF Applications & Meeting | APhA/NASPA Annual Meeting |


Announcements

Welcome to 2020
It's the start of a new year and a new decade of the 'twenty twenties'! CPF board members will engage in strategic planning at the upcoming February meeting and they are eager to 'think forward' with current programs like Flip the Pharmacy and the ACT Pharmacy Collaborative, as well as new and innovative grants. They also take this time to reflect on the current body of work that CPF has produced to ensure they 'Make the Most' of the quality deliverables and insights from existing grants and projects.

Flip the Pharmacy (FtP)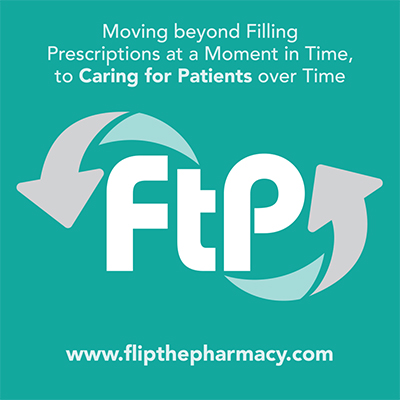 Flip the Pharmacy is a multi-year community pharmacy practice transformation program where CPF partnered with CPESN® USA to serve as the Coordinating Center for implementation. The first cohort is comprised of 28 teams across the country with over 200 coaches who provide direct guidance on implementing Change Package curricula to over 500 pharmacies.
One of the first endeavors is documenting pharmacist patient care planning activities with an emphasis on hypertension patients. The FtP curriculum for the first progression incorporates existing hypertension training and resources from the American Heart Association and the American Medical Association using their program called
Target:BP
. The initial preliminary results of electronically submitted care plan data (e-care plans) is impressive!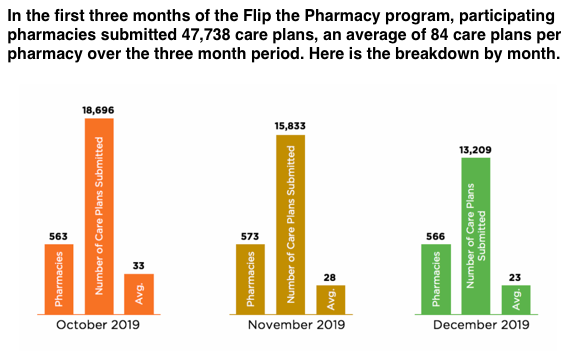 Read more about the exciting FtP progress in the January FtP Newsletter opening section written by Randy McDonough, PharmD, MS, the FtP Director of Practice Transformation! Also, be sure to follow along with the #flipthepharmacy action on social media!
Twitter
|
Facebook
FtP in the News
Thrive Subscribe Podcast -- Randy McDonough chats with CPF Executive Director, Anne Marie Kondic
The podcast is designed to inspire, challenge, and provide tools to transform community pharmacy practice. Hosted by Randy McDonough, listeners can tune in every Thursday to hear from peers, experts and leaders who are impacting community pharmacy practice transformation. Listen Now!

Pharmacy Times Article -- Flip the Pharmacy Initiative Aims to Transform Community Pharmacy (January 2020) -- Read More

FtP January Newsletter -- Read More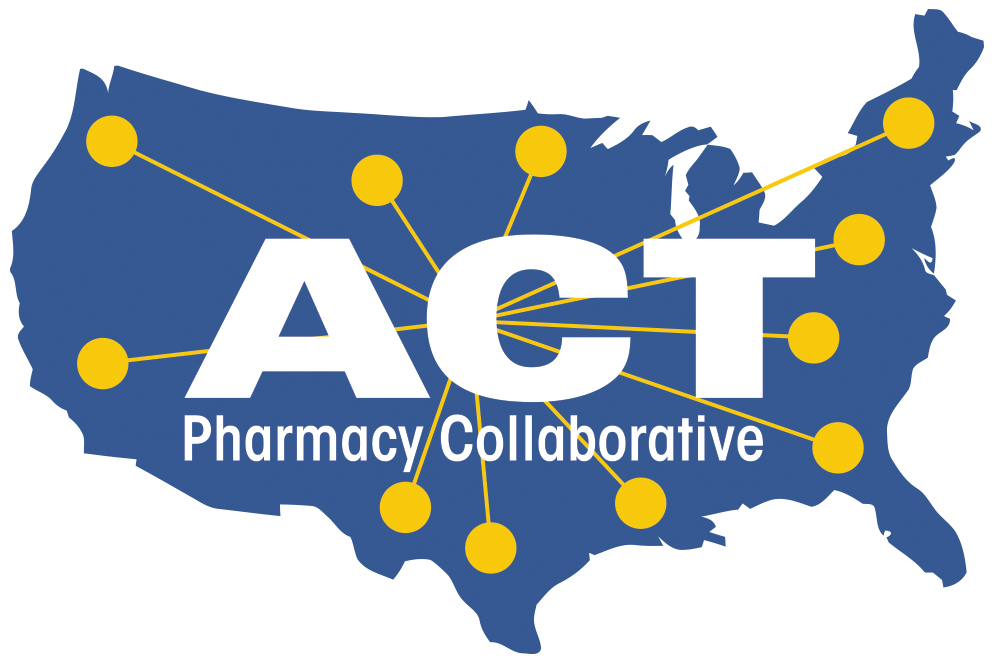 ACT Pharmacy Collaborative
The Academia-CPESN Transformation (ACT) Pharmacy Collaborative is an operational learning and ACTing collaborative between colleges/schools of pharmacy and clinically integrated networks of community-based pharmacies. The program launched at the AACP Annual Meeting in July 2019 and 78 teams have currently enrolled - that's a 28% increase since our October newsletter update and ACT is positioned for continued growth into 2020!

Impact
Upcoming

National Day of Service 2019 Results
ACT participants engaged in and documented National Day of Service activities between November 1 - 16, 2019.

Learn More | Download Results

Legislative Days
Ongoing tracking of legislative day events to demonstrate the collective reach that colleges/schools of pharmacy have across the country. Learn More

Webinar Series
Join the Collaborative by submitting a college/school Dean's Statement of Commitment, so you can be included in the webinar discussion series! Learn More

Blueprint
The ACT Pharmacy Collaborative Blueprint for Building a National Partnership Collaborative is set to release mid-March in advance of the APhA 2020 Meeting. The Blueprint is a document that describes the rationale and approaches to unite, mobilize and amplify the collective efforts of community pharmacy practitioners and academia to support community pharmacy practice transformation.

Join – Identify a school/college Champion and have the Dean complete an enrollment form!
Community Pharmacy Innovation in Quality (CPIQ) Awards
The 3rd Annual CPIQ award submission is open! The CPIQ Awards recognize high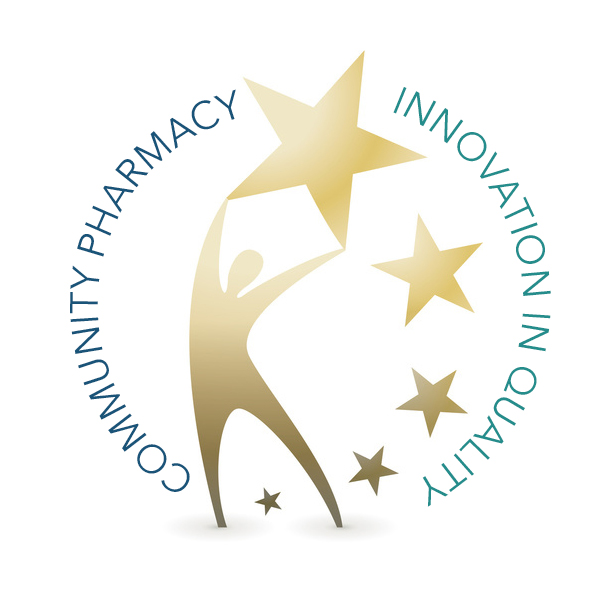 performance for a pioneering individual practitioner and an innovative community pharmacy practice that result in improvements in quality of care, medication optimization and patient outcomes. The awards are supported by funding from the Community Pharmacy Foundation and presented at the PQA Annual Meeting. Individuals may nominate themselves, their organizations or others through the online nomination form has been extended through Friday, January 31, 2020.
Individual Award
Pharmacy Award
2019: Lindsey Valenzuela, PharmD, Administrator of Population Health and Prescription Management, Desert Oasis Healthcare

2018: Kari Trapskin, PharmD, Vice President, Health Care Quality Initiatives, Pharmacy Society of Wisconsin
2019: Towncrest Pharmacy of Iowa



2018: Charitable Pharmacy of Central Ohio
Refer others or self-nominate. Apply today!
APhA Foundation Incentive Grants
The APhA Foundation and CPF have continued their longstanding partnership with the Incentive Grants Program to support 28 awards in the 2019-2020 residency cycle. This year's Incentive Grant projects address some of the country's most current health issues. Topics include an examination of patient knowledge and perceptions of opioid drugs and naloxone in a community setting, and the analysis of community pharmacists' knowledge, attitudes, beliefs and practices about Cannabidiol (CBD) products. View a list of the current recipients and their project titles on the recently updated website.
Recently Completed Grants
| Completed | Applicant | Category | Title | Status |
| --- | --- | --- | --- | --- |
2019
View Details
Matthew Pickering , PharmD RPh
Pharmacy Quality Alliance

Medication Management, Safety & Quality

Grant Complete
---
2019
View Details
Kate Gainer , PharmD
Iowa Pharmacy Association

Pharmacy Management & Ownership

Grant Complete
---
2019
View Details
Julie Akers , PharmD
Washington State University College of Pharmacy
Therapeutics, Diseases & Populations
Location: Washington

Grant Complete
---
2019
View Details
Kurt Proctor , PhD RPh
NCPA Innovation Center

Pharmacy Management & Ownership

Grant Complete
---
View more recently completed grants
Grantee Updates
Tracy Mahvan, PharmD, BCPP - University of Wyoming
Jennifer Palazzolo, BS Pharm - Flatirons Family Pharmacy, Longmont, Colorado
Grant Details
A recent Drug Topics article by Karen Berger profiled the academic / community pharmacy partnership for the project 'How Pharmacists Alleviate Primary Care Shortages'. Read more about their experiences, successes and challenges leading to some pragmatic words of advice. Flatirons Family Pharmacy is also participating in first cohort of Flip the Pharmacy.

Stefanie Ferreri, PharmD, BCACP - UNC Eshelman School of Pharmacy [Grant Details]
UNC Eshelman School of Pharmacy announces chair for Division of Practice Advancement and Clinical Education. Congrats to CPF grantee Team Member, Stefanie Ferreri, on her recent promotion! Read more.
Social Snippets


Upcoming Deadlines and Events

CPF Grant Applications Deadline – January 29, 2020 at Midnight Pacific – Submission
Community Pharmacy Innovation in Quality Award Nominations Deadline – January 31, 2020 – Submission
CPF Board Meeting – February 12-14, 2020
NASPA Spring Meeting – March 19-21, 2020 | National Harbor, MD Information
APhA Annual Meeting – March 20-23, 2020 | National Harbor, MD - Information