| | |
| --- | --- |
| Contents | |
| Announcements | Flip the Pharmacy Program | ACT Collaborative | NCPA Convention |
| Grant Updates | Recently Awarded and Completed | Grantee News |
| Social Snippets | CA Pharmacists & HIV Prevention Drugs | Pharmacies are Accessible for Care |
| Deadlines & Events | NCPA/NASPA Convention | CPF Applications & Meeting| PQA Leadership Summit |
Announcements
Flip the Pharmacy (FtP)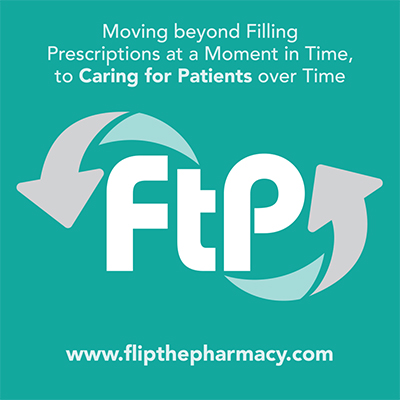 On September 4, 2019 The Community Pharmacy Foundation (CPF) announced the 20 Practice Transformation Teams funded by CPF for the first cohort of the multi-year Flip the Pharmacy Program. Flip the Pharmacy aims to transform community-based pharmacies away from point-in-time, prescription-level care processes and business models to longitudinal and patient-level care processes and business models through the use of hands-on coaching. Practice Transformation Teams will act as implementation arms for locally-based community pharmacy practice transformation efforts. CPESN® USA has partnered with CPF to serve as the Coordinating Center for Flip the Pharmacy.
The first cohort covers all regions of the country and the Teams have committed to engaging and deploying more than 70 Practice Transformation Coaches to more than 500 pharmacies across the country to implement the six key transformation domains (see the domains and sign up to follow the Program at
www.flipthepharmacy.com
).
Read more
about the 28 total participating Teams in Cohort 1.
The first Change Package is now publicly available at
www.flipthepharmacy.com/changepackage
. The Change Package is the 'curriculum' released each month for coaches and teams to incrementally introduce transformation activities into pharmacy practice in a structured order. The first Change Package covers Domain 1,
'Leveraging the Appointment Based Model'
, and includes information on the following topics: pharmacy self-assessment and coach on-site readiness assessment, medication synchronization self-assessment and implementation tips, patient encounter documentation forms, patient case persona, and a sample care plan.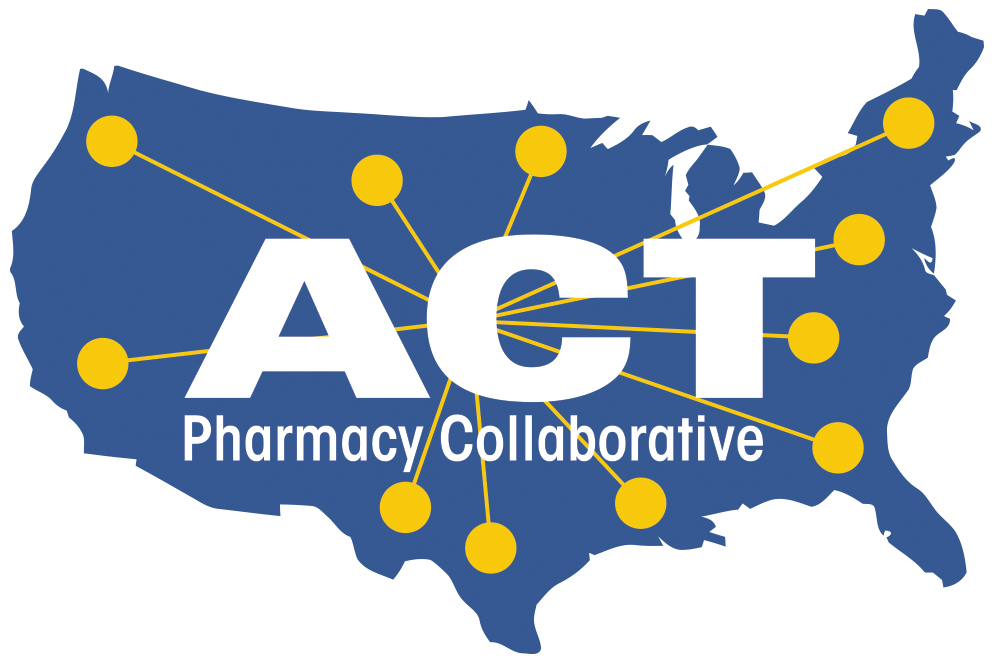 ACT Pharmacy Collaborative
The Academia-CPESN Transformation (ACT) Pharmacy Collaborative is an operational learning and ACTing collaborative between schools/colleges of pharmacy and clinically integrated networks of community-based pharmacies. The program launched at the AACP Annual Meeting in July 2019 and 61 teams have currently enrolled.

Join – Identify a school/college Champion and have the Dean complete an enrollment form!


National Day of Service – Select a day(s) during November 1-16, 2019 where new or existing student service programs are implemented at high performing community pharmacies (e.g. CPESN) and share the experiences with ACT to help socialize and promote the experiences!


Legislative Day Events – Share information with ACT after a college/school legislative event to build the collective voice documenting advocacy efforts nationwide. Simply complete a short survey following your event for recognition of your college/school and add data to support the collective reach and impact of legislative actions.

National Community Pharmacists Association (NCPA) Annual Convention
CPF board and staff will attend the upcoming NCPA meeting on October 26-29, 2019 at the San Diego, California Convention Center. In addition to valuable 'hallway conversations', you will be able to meet CPF representatives at the following sessions:
Expo Interactions – Sunday, October 27th 4 - 5pm PT and Monday, October 28th 12 -1 pm PT at the NCPA Expo Pavilion
Come socialize with leaders from CPESN, FtP, ACT and CPF during designated times of the NCPA Expo. Learn more about each of these distinct but interacting programs, but more importantly, about the synergies emerging to advance and sustain local community-based pharmacy practice. CPF is a proud supporter to launch many FtP teams and coaches, the CPESN coordinating center for FtP Program implementation, and the ACT Collaborative.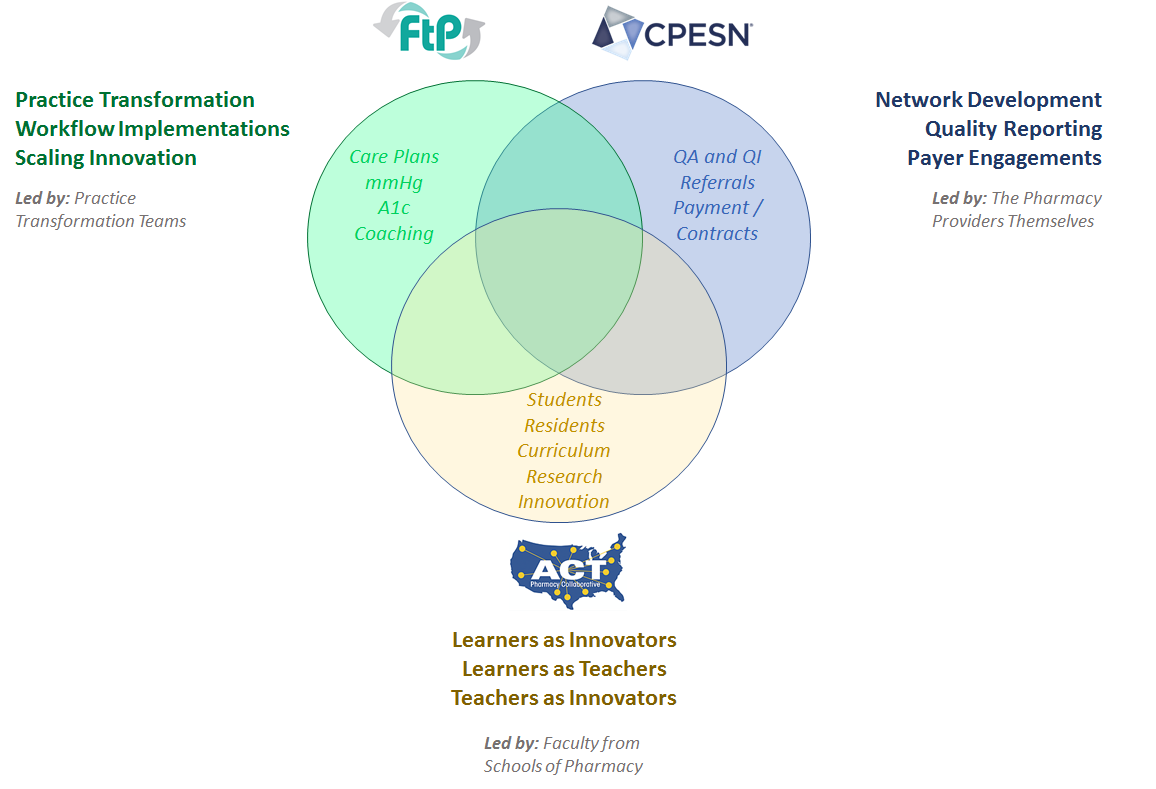 ACT Open Forum - Monday, October 28th 8 - 9:30am PT at Marriott Marquis San Diego, Temecula 2
All attendees are invited to participate in this event and hear how schools/colleges of pharmacy can officially join the Collaborative and be a part of the movement. The session will also provide an update on the collaborative and highlight the upcoming National Day of Service and Legislative Events activities.
National Alliance of State Pharmacy Associations (NASPA)
–

Saturday, October 26th for NASPA Members

NASPA programming will include a panel session on the benefits of collaboration between state associations, CPESN networks, and schools/colleges of pharmacy through the ACT Pharmacy Collaborative and involvement with Flip the Pharmacy. The following panelists will lead the discussion:
Pat Epple, CAE – CEO, Pennsylvania Pharmacists Association

Melissa Somma McGivney, PharmD – Professor and Associate Dean for Community Partnerships

University of Pittsburgh

Chris Antypas, PharmD – President & Chief Operating Officer Asti's South Hills Pharmacy
CPF in the News
| Awarded | Applicant | Category | Title | Status |
| --- | --- | --- | --- | --- |
2019
View Details
Tanvee Thakur, MS, BPharm
University of Wisconsin- Madison

Medication Management, Safety & Quality

Facilitating community pharmacists' opioid education and safety consultations

In Study
---
View more recently awarded grants
| Completed | Applicant | Category | Title | Status |
| --- | --- | --- | --- | --- |
2019
View Details
Randy McDonough, PharmD MS BCGP BCPS FAPhA
Towncrest Pharmacy

Pharmacy Management & Ownership

Grant Complete
---
View more recently completed grants
Grantee Updates
Elizabeth Dragatsi, RPh, BCPS - Dragatsi & Co, Maine [Grant Details]


The Maine Pharmacy Association has awarded Elizabeth with the Upsher-Smith Excellence in Innovation Award for 2019 at their September 14th meeting. Elizabeth is putting final touches on educational brochures and accredited educational models for her grant Contingency Management and Education for Opioid Weaning Patients. Watch for updates on social media and check the grant details page for the release of the new materials.
Randy McDonough, PharmD, MS - Towncrest Pharmacy, Iowa [Grant Details]

The materials posted in the recently completed grant served as a pilot project over the summer to help prepare for the Flip the Pharmacy program. Scan through the wealth of information in the Transformation Training materials for a preview of the type of information that will be incorporated throughout the 24-month implementation period for Cohort 1.
Natalie DiPietro Mager, RPh, PharmD, MPH - Ohio Northern University Raabe College of Pharmacy, Ohio [Grant Details]
David Bright, PharmD, RPh - Ferris State University, Michigan

Social Snippets
Upcoming Deadlines and Events
NCPA Annual Convention
– October 26-29, 2019 | San Diego, CA - Information
NASPA Fall Meeting
– October 26-27, 2019 | San Diego, CA Information
CPF Grant Applications Deadline
– November 6, 2019 at Midnight Pacific – Submission
CPF Board Meeting
– November 21-22, 2019
PQA Leadership Summit
– November 20-21, 2019 | Arlington, VA - Information