| | |
| --- | --- |
| Contents | |
| Announcements | Flip the Pharmacy Program | ACT Pharmacy Collaborative | AACP 2020 Virtual |
| Grant Updates | Recently Awarded and Completed Grants | Grantee Updates |
| Social Snippets | Pharmacy-delivered Technologies in Primary Care & Testing | Clinically Validated BP Devices |
| Deadlines & Events | CPF Applications & Meetings | NCPA Annual Convention | PQA Summit | ACT Collaborative Workshop |

Announcements

The CPF board will hold a virtual meeting on August 25-27, 2020 to conduct all regular business, including review and approval of Flip the Pharmacy (FtP) awardees for Round 2 (Cohort 2: October 2020-September 2022). Flip the Pharmacy team applications through the FtP application website are due by August 6, 2020. Traditional CPF grant applications through the CPF website are due by Midnight Tuesday, August 11, 2020 (Pacific Time).


Flip the Pharmacy (FtP)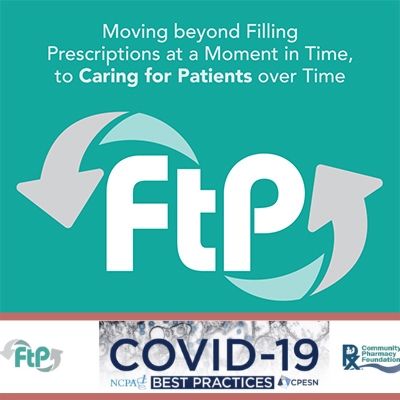 Flip the Pharmacy is a multi-year community pharmacy practice transformation program where CPF partnered with CPESN® USA to serve as the Coordinating Center for implementation. Round 1 (Cohort 1: October 2019 - September 2021) cohort is comprised of 28 teams across the country with over 200 coaches providing direct guidance to implement Change Packages in over 500 pharmacies.

FtP Round 2 (Cohort 2: October 2020 - September 2022) Application Cycle is Open!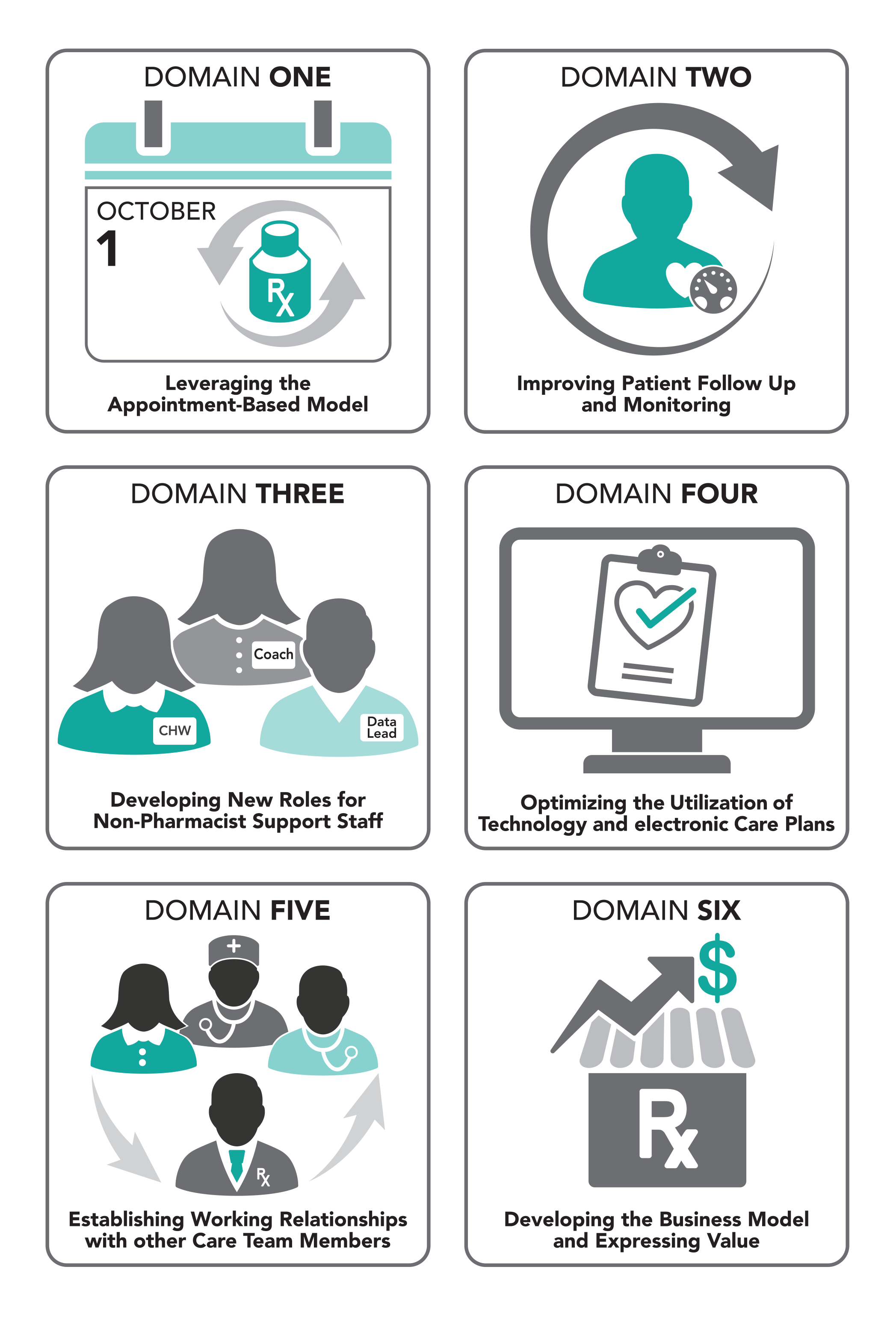 Change Packages, Best Practices, and Additional Resources
A Change Package is an implementation guide in which the FtP initiative aims to provide bite-size chunks of best practices that pharmacies across the country have implemented. This information is shared with all pharmacies in order to transform pharmacy practice from filling a prescription at a
moment in time
to caring for patients
over
time. Flip the Pharmacy Change Packages are updated monthly, and they sequentially cover six domains (See Figure). Change Packages are FREE and PUBLICLY AVAILABLE for use.
Over the 24-month cohort duration, coaches guide participating pharmacies using Change Packages that cover the six practice transformation domains repeated through four medication optimization progression cycles. The four progressions include hypertension, opioid stewardship and pain management, diabetes/immunizations, and behavioral health/social determinants of health (SDoH).
Due in large part to the rapid-response needed to address immediate COVID-19 practice needs, the FtP Change Packages have evolved to become a more high-level overview that utilizes existing training materials or incorporates newly developed video messaging. These modifications are evident in the two recent Changes Packages released for the Opioid Stewardship and Pain Management progressions (
June 2020
|
July 2020
). In addition, the FtP website is continually updated with examples of best practices and resources from participating pharmacies.
Take a look at two of the many best practice submissions from participating pharmacies! (
Kelley-Ross
|
Moose Pharmacy
)

View #1
- Protecting Pharmacy Workforce and Patient Communications (3/24/2020)
View #2
- Triage COVID-19 Patients and Care Plan Development (4/8/2020)
View #3
- Applying for a CLIA Certificate of Waiver (4/17/2020)
View #4
- Considerations for Reopening your Pharmacy (5/15/2020)
FtP Media Coverage
FtP Pharmacy Stories
FtP Newsletters -- July 2020 | All Newsletters

Randy McDonough writes about the 'Evolution of Flip the Pharmacy and Practice Transformation' in his FtP July 2020 newsletter remarks. Learn more about the recently launched NCPA Innovation Center / CPESN Community Pharmacy Fellowship as Randy describes how the Flip the Pharmacy Program is about practice transformation to build capacity at the site level. In contrast, and also complementary and potentially synergistic, the Fellowship is about the individual as a "change agent" within a site.


ACT Pharmacy Collaborative
The Academia-CPESN Transformation (ACT) Pharmacy Collaborative is an operational learning and ACTing collaborative between colleges/schools of pharmacy and clinically integrated networks of community-based pharmacies. The program is supported by a CPF grant and launched at the American Association of Colleges of Pharmacy (AACP) Annual Meeting in July 2019. The collaborative is entering the second year of Uniting, Mobilizing, and Amplifying colleges/schools of pharmacy and clinically integrated networks of community-based pharmacies. There are currently 85 colleges/schools involved and over 250 faculty nationwide. In the year ahead, the Collaborative team will continue monthly webinars making connections between CPESN USA, community pharmacy practice advancement, and academic initiatives. They will also launch the ACT Pharmacy Collaborative Master Class for students experiencing a rotation at a CPESN pharmacy site.

Save the date! November 11th-13th, 2020: Virtual Community Pharmacy Practice Transformation Workshop hosted by the University of Pittsburgh and the American Association of Colleges of Pharmacy (AACP). A special sessions is planned on November 11th for CEO Deans and Experiential Learning Directors. The workshop will be held remotely with registration available in late August through AACP.
American Association of Colleges of Pharmacy (AACP) Virtual Pharmacy Education 2020
Although CPF board and staff will miss the in-person engagement and momentum as an exhibitor, we are excited to participate virtually to learn the priorities of the academy and engage by 'chat' with numerous speakers and participants. CPF is also proud to highlight three
Academia-CPESN Transformation (ACT) Pharmacy Collaborative
sessions occurring during the AACP meeting!
Recently Awarded Grants
| Awarded | Applicant | Category | Title | Status |
| --- | --- | --- | --- | --- |
2020
View Details
Patrick Campbell , PharmD, PhD
Pharmacy Quality Alliance

Medication Management, Safety & Quality

Demonstrating the value of community pharmacy practice: Forming consensus on measure concepts suitable for use in value-based payment programs


In Study
---
View more recently awarded grants
Recently Completed Grants
| Completed | Applicant | Category | Title | Status |
| --- | --- | --- | --- | --- |
2020
View Details
Dave Dixon , PharmD BCPS BCACP CDE CLS
VCU School of Pharmacy Center for Pharmacy Practice Innovation
Therapeutics, Diseases & Populations
Location: Virginia

Implementation and Evaluation of a 24-hour Ambulatory Blood Pressure Monitoring Service in a Community Pharmacy
Resources: CPF Synopsis | Article
Publications: J Am Pharm Assoc

Grant Complete
---
2020
View Details
Elizabeth Dragatsi , RPh BCPS
Dragatsi & Co.
Medication Management, Safety & Quality
Location: Maine

Grant Complete
---
2020
View Details
Randy McDonough , PharmD MS BCGP BCPS
Towncrest Pharmacy
Pharmacy Management & Ownership
Location: Iowa

Implementation of Continuous Medication Monitoring in a Cohort of Community Pharmacies
Resources: CPF Synopsis

Grant Complete
---
2020
View Details
Tanvee Thakur , MS, BPharm, PhD
University of Wisconsin- Madison

Medication Management, Safety & Quality

Facilitating community pharmacists opioid education and safety consultations
Resources: CPF Synopsis | Tool

Grant Complete
---
2020
View Details
Leticia Moczygemba , PharmD, PhD
University of Texas

Pharmacy Management & Ownership

Enhanced Medication Reconciliation to Improve Transitions of Care in a Senior Living Facility
Resources: CPF Synopsis | Form | Tool | Form

Grant Complete
---
2020
View Details
Matthew Witry , PharmD, PhD
University of Iowa College of Pharmacy

Therapeutics, Diseases & Populations

Grant Complete
---
View more recently completed grants
Grantee Updates
Social Snippets


Upcoming Deadlines and Events
AACP Virtual Pharmacy Education 2020 – July 13-31, 2020 – Information
CPF Grant Applications Deadline – August 11, 2020 at Midnight Pacific – Submission
CPF Board Meeting – August 25-27, 2020
NCPA Annual Convention – October 17-20, 2020 (Nashville, TN) – Information
CPF Grant Applications Deadline – November 4, 2020 at Midnight Pacific – Submission
PQA Leadership Summit – November 4-5, 2020 – Information
Community Pharmacy Practice Transformation Workshop (Virtual) – November 11-13, 2020 – Information
CPF Board Meeting – November 18-19, 2020